Statistics
We have 2 guests online

Caritas Church - Ivano-Frankivsk
| | |
| --- | --- |
| Свято першого потрефелика в Івано-Франківському Карітасі | |
Monday, 29 August 2016 15:54
There are no translations available.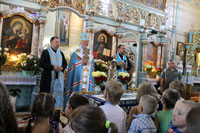 29 серпня 2015 року в Івано-Франківському Карітасі відбулося свято "Першого портфелика". Традиційно свято розпочалось з молитовного благословення Архієпископа та Митрополита Івано-Франківської архиєпархії УГКЦ Владики Володимира (Війтишина). Сьогоднішня акція – це свідчення того, що Карітас, виявляючи соціальне служіння, є також місцем живої парафії, місцем зустрічі з Ісусом Христом для кожного нужденного в нашому місті та області.
Read more...
| | |
| --- | --- |
| Continuation of series of educational trainings for social workers of Tysmenytsya and Dolyna territorial centers | |
Monday, 15 August 2016 18:23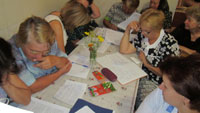 Caritas Ivano-Frankivsk in August 2016 continues to teach social workers of territorial centers of social services. So on the 9th and 12th of August in Tysmenytsya and Dolyna regional centers we held educational trainings "Nourishment regime and dietary cure in various diseases. Ways of serving food to lying patients", during which Caritas workers in accessible interactive manner tried to inform social workers on how to improve the life quality of seriously ill people.
Read more...
| | |
| --- | --- |
| Caritas organized summer holidays for children | |
Friday, 12 August 2016 12:28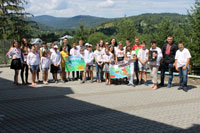 Summer – it's time to rest! To visit a camp, to have a good rest, to find fresh power, to make new friends and to spend nice time is a dream of every child. Traditionally CF "Caritas Ivano-Frankivsk UGCC" gives the children under its wardship the opportunity to improve their health and have a rest in a summer camp. This year 32 persons, including children of ATO members and children of people that were resettled by force, volunteers and workers of Caritas had the opportunity to inspire, in both spheres spiritually and physically, among picturesque mountains - in village Zarichya of Nadvirna district.
Read more...
| | |
| --- | --- |
| The Zhuravliovs, a family with many children from town Tysmenytsia, received aid from Caritas | |
Tuesday, 09 August 2016 08:42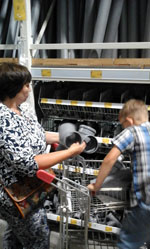 Thanks to the financing of the charitable foundation "People in Need" (Germany, Trier), a large family of Zhuravliov Hanna and Vasyl got the opportunity to improve their living conditions. Funds, given by Caritas to the family from benefactors, are appointed for the purchase of new doors, building materials for the equipment of water supply and sewer systems and plumbing supplies for bathroom arrangement. The family also bought cement for the installation of rough concrete floor in the rooms of the house.
Hanna and Vasyl are bringing up 5 children. First a two-year Maxim appeared in the family and then they have adopted three more children that were deprived of parental care: Svitlana – six years (12), Yaroslava – 3 years (10) and Edyard – 9 months (seven years). In 2013 Valeriya appeared in the family – an orphan who was taken under the family's wardship. At that time she was almost 10 years.
Read more...
| | |
| --- | --- |
| БФ "Карітас" розповів прочанам про діла милосердя | |
Monday, 08 August 2016 20:09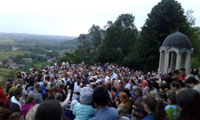 "Charity cannot be just a theory" – are convinced the representatives of CF "Caritas-Ivano-Frankivsk". Within the frameworks of making the All-Ukrainian Patriarchal pilgrimage to Galician Miraculous icon of Our Lady in the village Krylos they presented their program "Seven works of Mercy".
Read more...
<<

Start

<

Prev

1

2 3 4 5 6 7 8 9 10 Next > End >>


Page 1 of 91