Statistics
We have 1 guest online

Caritas Church - Ivano-Frankivsk
| | |
| --- | --- |
| Excursion in the Museum of Ethnography and Life | |
Tuesday, 24 May 2016 16:50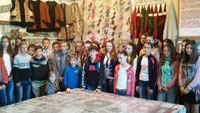 On the 20th of May, 2016 wards of the Social and Psychological Assistance Centre for children and young people visited the Museum of Ethnography and life in Sadzhava village, located in Bohorodchany district, Ivano-Frankivsk region. 36 children from Ivano-Frankivsk and Bohorodchany district took part in this interesting excursion.
Read more...
| | |
| --- | --- |
| We remember and warn! | |
Thursday, 19 May 2016 18:38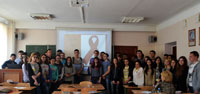 Every third Sunday of May all over the world people different hold events to commemorate people who died from AIDS. The main purpose of such events is to draw public attention to HIV/AIDS problems, to change the attitude of society towards people with HIV/AIDS, to express support to these people and to commemorate those people who died from AIDS. On this day people remember those of us who are no longer around, those who had sound health, but could not save it.
Read more...
| | |
| --- | --- |
| Mother's Day | |
Tuesday, 17 May 2016 19:13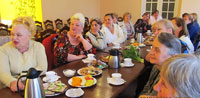 Mother is the most important and the sweetest person in everyone's life, especially in the life of a child with special needs. Mothers of disabled children have endured difficult trials of life, but despite this their hands are the most gentle, eyes are the kindest, their hearts are the most sympathetic, faithful, and their love never faileth. Each day they spend time along with their children, give them strength and support, they are reliable assistants in solving everyday problems.
Read more...
| | |
| --- | --- |
| Students and pupils gathered food for the needs of the soup kitchen of Ivano-Frankivsk Carita | |
Monday, 25 April 2016 17:59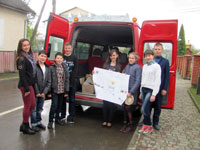 Young benefactors of secondary schools № 7and 28 of Ivano-Frankivsk, of secondary school in Kryhivtsi and students of Ivano-Frankivsk National Technical University of Oil and Gas gathered more than 300 kg of food during April and on the 22nd of April handed them over to the needs of the soup kitchen. Everybody joyfully supported the initiative to join the charity campaign "One kilogram". Everyone could donate 1 kilogram of food to their consideration.
Read more...
| | |
| --- | --- |
| Caritas is their amulet | |
Saturday, 23 April 2016 15:56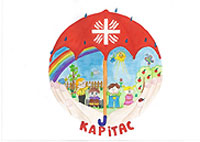 The network of initiative parent groups, of centers for social integration of people with disabilities in Ivano-Frankivsk region has a name and logo, identified by the results of the contest.
In the first place is the competitive work of Sofia Rushchak – pupil of Ivano-Frankivsk School №28. For its name and logo "We are their amulet" voted 184 persons in e-voting.
Read more...
<<

Start

<

Prev

1

2 3 4 5 6 7 8 9 10 Next > End >>


Page 1 of 88