Statistics
We have 8 guests online

Soup kitchens
Monday, 16 March 2009 02:06
Mass unemployment and a low level of social protection of elderly people, pensioners, disabled people forced society to respond adequately to the problems of small protected population.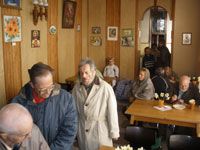 That is why since 1992. in Ivano-Frankivsk, a charitable canteen was opened and has been functioning by today. Over the years, the geography of the realization expanded and nowadays a charitable canteen in Galych is functioning. In 2008 a major repairs in charitable canteen Galych was carried out, water supply and sewerage were changed, new flooring tiles were spread on the floor, new kitchen equipment was purchased (gas stove, electric water heater, fridge), tableware and cutlery.
The purpose of the canteens- providing with once-only hot meals for the representatives of the poor (single elderly people, disabled persons without place of living, large and poor families).
Tasks to be realized in the work of the canteens
providing with daily social - domestic services in the form of set meal for representatives of the low-income groups of the population ;
supplying with clothes and footwear the acquirers of the project, who found themselves in crisis situation;
providing with information and consultancy services and redirection of  them to social services of  Ivano-Frankivsk.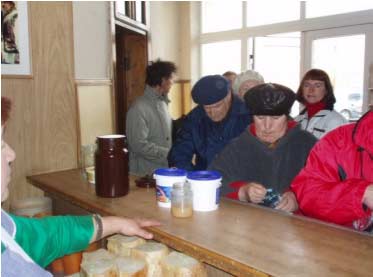 To implement the above mentioned tasks the canteens are respectively equipped , which consist of kitchen, kitchen sink and tableware, distributing and dining hall. The rooms, where the charitable canteens are arranged, according to the decision of the local authorities of Ivano-Frankivsk and m. Galich are given in free use.