Statistics
We have 9 guests online

Social assistance
Tuesday, 18 April 2017 18:31
There are no translations available.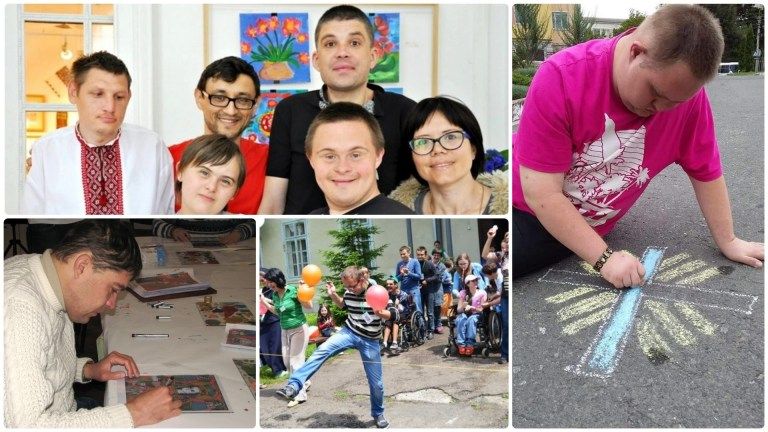 Read more...
Friday, 17 July 2009 07:00
The Second World War was the largest in history. At about six dozen states took part in it, 37 of which participated in the fighting. According to various estimates, from 50 to 70 millions of people were killed.
On the eve of war, Ukraine was the small changed card against the fighting with great powers. It also led to extremely heavy nature of the fighting in our country. Because of its strategically important position of Ukraine has suffered incredibly, paying off Nazi aggression, and disruptive failures of Stalin's war leadership. Ukraine suffered the greatest loss of life and suffered enormous losses in the war. During the war every fifth citizen of Ukraine was killed. Its economy and many settlements were completely destroyed or partially.
Statistics census of the population of Ukraine is eloquent, was held in January 1941, counted in Ukraine 41.6 million people, and in 1946, when populations in Ukraine amounted to 27.4 million. So the difference - 14.2 million. And this is only so-called direct losses. Demographics also heal those who could be born, but because of certain circumstances not born. When adding and indirect losses - even millions of 8-10 - the adjective "great" about this war, it may seem too simple estimate of the twentieth century's most brutal massacre.
With a height of lived years after the liberation of Ukraine from German invaders a lot of things can be reinterpreted and perceived quite differently. Although sometimes someone is trying  to explain and understand, even forgive the fact that doesn't submit comprehension and explanation. But the pain, caused by torture, humiliation and justifiable cruelty cannot be faded even in a period of decades.
How can you forget, when you - an infant boy, like a tiny, silent servant, working animals are kept in a freight train. And you cannot hope even for  a human attitude, you do not have rights to the word, compassion, support and even to life. Yes, it's bitter memories. We must always remember these terrible events in the history of mankind. They cannot be obliterated from memory and we need to remember that it would never happen again.
More than 14 thousand concentration camps, Gestapo prisons, ghettos and other shameful creations distorted imagination Nazi usurper - works that are covered with a dense spot map of the continent, and where day and night, summer and winter throwing, were brought, imprisoned civilians, there were in Europe. 3 18 million prisoners of fascism, almost 6 million (every third) were citizens of the former USSR. 2 millions of them did not live to see  the liberation.
Remembering the Victims of National - Socialist arbitrariness, the German Foundation "Remembrance, Responsibility and Future" today stands for strengthening human rights and understanding between peoples. He still cares about the victims and survivors. Thus, the Foundation serves as an expression of political and moral responsibility of the German state caused by the Nazi regime's loss.
In Ivano-Frankivsk region, the right to make the program "The Meeting Place - Dialogue" on competitive conditions won CF "Caritas Ivano-Frankivsk UGCC " and Ivano-Frankivsk office ICO" Care about elderly people in Ukraine".
Very often the target group of the project - the victims of totalitarian regimes are isolated from society in the environment. Age, disease, lack of family members, guardians, helplessness, powerlessness - these are the factors that characterize the social situation and status of victims of totalitarian regimes. About what recognition can we speak, when sometimes  there is nobody to cook, clean clothes, put in a room, make shopping.
Within the framework of the program "The Meeting Place - Dialogue" in CF "Caritas Ivano-Frankivsk UGCC"  the Club of the elderly people  "Nadvechir" was organized - a meeting place for the victims of totalitarian regimes. Joint meetings, events - this is a good opportunity for communication, establishing communication links between the generations, ensuring the transfer of experience and simultaneously creates the conditions for recovery of the context of existence, a sense of importance themselves.
Through meetings with the participation of young people and victims of totalitarian regimes, we will try to promote recognition of achievements and experiences of victims of totalitarian regimes. Dialogue between generations will help youth to study the histories meaningful and create conditions for the transfer of this experience for the next generation.
Involvement of victims of totalitarian regimes to the Club's activities will solve the socially - domestic, socially - health, physical problems of elderly people , because CF "Caritas Ivano - Frankivsk UGCC" since 2002 directs its work to improve physiological health and quality of life of elder persons. Medical social work unit "Home care" is on the basis of fund for seriously ill, lonely elderly people who, because of their physical condition or illness, permanently at home.
Because of this subsection, social, medical, psychological assistance will be provided to representatives of the following target groups:
victims of Nazi persecution:
former prisoners of concentration camps, ghettos and other places of detention and for forced labor during the Great Patriotic War and World War II;
persons who were forcibly removed from the former Soviet Union for forced labor on the territory of Germany or its allies, who were at war with the former Soviet Union or in territory occupied by them, other States;
children, that were born in places of detention and their parents and in places, where their parents are serving forced labor "
prisoner of war;
victims of the Nazi occupation;
OUN - URA;
victims of political repressions of the Stalin's regime;
prisoners of Stalin's concentration camps.
The main objectives of the Club of elder people  "Nadvechir" is to harmonize social relations between different generations through joint educational and cultural event. Joint activities will promote public awareness among young inevitability of ageing. So, together we will help to adapt elderly to the physiological process of ageing on the one hand and will create conditions for education of children and youth in a spirit of respect for the elderly, victims of totalitarian regimes and their services to society.
Improving the social status of elderly people - is one of the most important tasks, that is set before us. The active involvement of lonely people in the processes of communication, facilitating social interaction and support of other elderly people needed for mental health. Rehabilitation of old age increases public awareness of their own importance, needs to recognize, respect from others, helps to maintain confidence in their forces, which generally contributes to filling the lives of people older content and meaning.
All this will help to solve the fundamental problem of the elderly people- will overcome their isolation. Organization of various meetings in the places of events (tours, religious pilgrimage, training, communication and the formation of new value orientations), the provision of psychological care, involvement of the elderly people to sports - health and recreational programs, providing spiritual support, Catechism - all this will regenerate the content of a person to existence, will add confidence and a sense of importance.
Implementing the concept of training and education of volunteers from among the elderly, young retirees, youth leaders and volunteers will ensure the formation and functioning of self help and mutual aid groups, which would increase the amount and quality of services for the care of the target group of the project, especially those, requiring assistance. Thus the conditions for active participation of older people in public life, transfer of experience, professional skills of the younger generation  will be created.
Monday, 16 March 2009 02:09
C F "Caritas Ivano-Frankivsk UGCC" for 17 years of its work has close relations with provincial partners Caritas Trier (Germany) and the Maltese Cross of Trier (Germany). Every year Caritas receives consignments of humanitarian aid from them, which contain in overwhelming majority:
Used clothes, shoes;
Asked invalid carts;
used crutches;
Asked chairs - toilets;
used walkers;
used beds for household and functional for medical institutions;
Used medical equipment;
Items for nursing .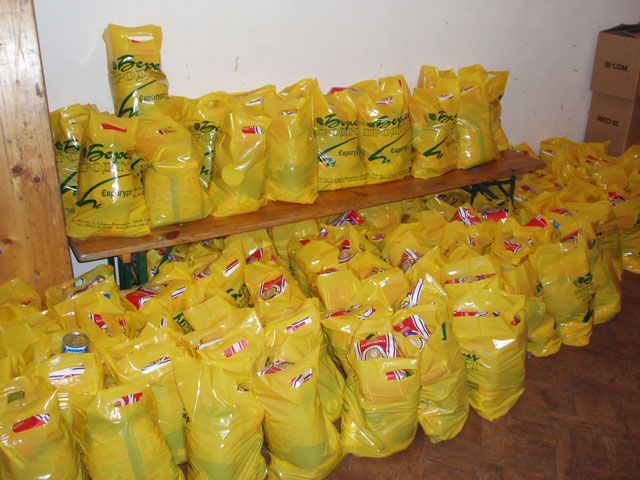 According to the plan of distribution of received goods, humanitarian aid is distributed between the Dean of Ivano - Frankivsk Diocese of UGCC, public organizations of the  city and region, low-income citizens, the sick, disabled, regional centers for serving the lonely and disabled, the Office of Labor and Social protection of the population.
Monday, 16 March 2009 02:06
Mass unemployment and a low level of social protection of elderly people, pensioners, disabled people forced society to respond adequately to the problems of small protected population.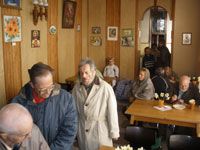 That is why since 1992. in Ivano-Frankivsk, a charitable canteen was opened and has been functioning by today. Over the years, the geography of the realization expanded and nowadays a charitable canteen in Galych is functioning. In 2008 a major repairs in charitable canteen Galych was carried out, water supply and sewerage were changed, new flooring tiles were spread on the floor, new kitchen equipment was purchased (gas stove, electric water heater, fridge), tableware and cutlery.
The purpose of the canteens- providing with once-only hot meals for the representatives of the poor (single elderly people, disabled persons without place of living, large and poor families).
Tasks to be realized in the work of the canteens
providing with daily social - domestic services in the form of set meal for representatives of the low-income groups of the population ;
supplying with clothes and footwear the acquirers of the project, who found themselves in crisis situation;
providing with information and consultancy services and redirection of  them to social services of  Ivano-Frankivsk.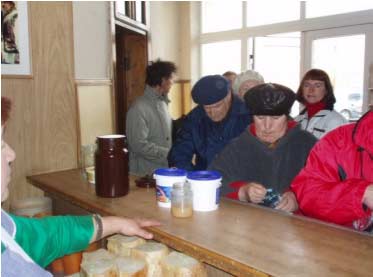 To implement the above mentioned tasks the canteens are respectively equipped , which consist of kitchen, kitchen sink and tableware, distributing and dining hall. The rooms, where the charitable canteens are arranged, according to the decision of the local authorities of Ivano-Frankivsk and m. Galich are given in free use.