Statistics
We have 25 guests online

| | |
| --- | --- |
| Caritas Ivano-Frankivsk Organized a Talent Contest for Children | |
Saturday, 03 March 2018 16:10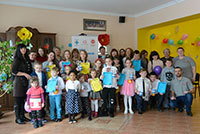 On Saturday, March 3 a talent contest "The Center for Family Support has Talents" took place in Caritas Ivano-Frankivsk. 13 children participated in the concert program. They attend the Family Support Center.
Children and their parents showed their talents. They sang, danced, played musical instruments, recited verses. The competition was attended by a jury that evaluated the skill of each performance. The first, second and the third places were distributed among the children in each nomination.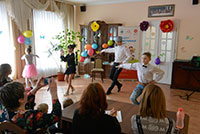 The mother of two boys attending the Family Support Center was among the jury. Olena Starchenko is an immigrant. She moved to Ivano-Frankivsk in 2014 from Donetsk. Her guys did not take part in the competition but they supported their friends.
"It was very difficult to evaluate children because they are different and each of them has its own talent," says Olena, "but I think that we have managed this difficult task".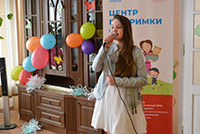 "Every child has a talent, but it needs to be developed," says Natalia Kozakevych, Executive Director of Caritas Ivano-Frankivsk, "it is also necessary for the child to have the support of parents, teachers. That's why Family Support Center arranges these competitions to encourage children to develop their creativity."
The Family Support Center has a group of early child development, music and theater classes and the School of Success, where psychologists and family assistants help the child to discover creative potential and leadership skills.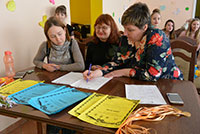 The Family Support Center is located at 7 Chornovil Street, office 313 (3rd floor). All the classes are free.
The event took place within the framework of the project "Creation of a Family Support Center as a Model for the Integration of Displaced Persons and Host Communities in Ukraine."