Statistics
We have 16 guests online

| | |
| --- | --- |
| Metropolitan Volodymyr visited the seriously ill, which Frankivsk Caritas cares | |
Friday, 09 February 2018 22:42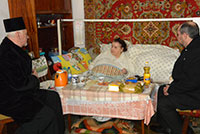 On Friday, February 9, Archbishop and Metropolitan Ivano-Frankivsk Kyr Volodymyr Viityshyn, visited the sickly people cared for by the Frankivsk Caritas. Visits took place within the framework of social days in the UGCC and the World Day of the Patient which is commemorate on the 11th of February.
Metropolitan Volodymyr and director of Caritas Ivano-Frankivsk Father Volodymyr Chornii talked to the sick, wished for strength and God's blessing. Wards also received food and care products.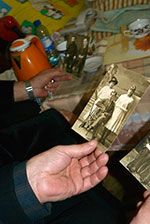 Rymma Mezentseva has been bedridden for 18 years after an unsuccessful operation. The woman is 92 now. Children live separately, rarely visit her, so a neighbor cares for a woman. Ms. Rima recalls her youth and shows pictures. The woman is from Russia, and she lives in Ivano-Frankivsk all of her conscious life. The only thing she regrets is that she hasn't learnt Ukrainian language well, but she's fondly singing Ukrainian songs.
Bishop visited another ward of Caritas at Staryi Lysts. Bogdan Misko bedridden after a car accident. Wife cares for her husband. The couple are very grateful to Caritas employees for their help and support.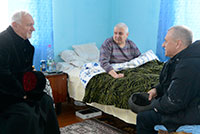 Caritas Ivano-Frankivsk takes care of seriously ill people in Ivano-Frankivsk and the region. The visiting nurse visits patients every week and the brigade consists of a doctor, a nurse, a social worker, a psychologist and a confessor comes every month. Caritas also supports relatives of patients - held psychotherapeutic classes, conversations with the clergyman, joint prayers. 90 people requiring palliative care have turned to Caritas since the beginning of 2018