Statistics
We have 10 guests online

Tuesday, 02 October 2018 20:27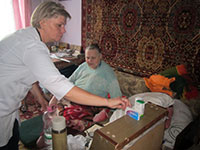 The land generously rewards people to rich gain when the autumn comes. With the onset of autumn in our lives, we get a great treasure of knowledge and life experience. The current generation of elderly people is a generation that carried on its shoulders the weight of the Great Patriotic War, rebuilt the ruins, rose from knees, created for us the present, gained independence and, unfortunately, today we are going through our disagreement again.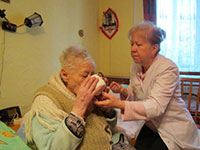 Now these people are weak and sick and they need our understanding, mercy, compassion and help. For years"Ivano-Frankivsk Caritas UGCC" has been trying to promote the social status of the elderly. It helps them in difficult life situations when they need extra help.
Older people from the city of Ivano-Frankivsk also joined the elderly from among the relocated people. Because of events in the East of Ukraine, they were forced to leave their homes and go to the unknown to save their lives, not knowing if they would ever have to return home.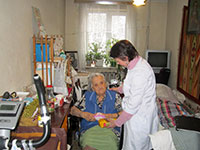 "Once upon a time under Soviet rule, my relatives have become so devastated," recalls Stepania, an immigrant from the city of Horlivka.– My husband and I, when we got married, did not have the opportunity to get accustomed, and therefore we went to Donbass to work there and have the opportunity to get a home. Wherever I could think that there will be time when I will run with my family from there leaving a dilapidated house..."The grandmother's tears do not let her speak. The old woman is excited for the support of Caritas and the church because the Lord only helped her both then and now.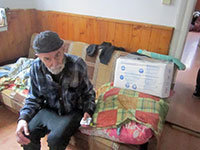 The whole team of Ivano-Frankivsk Caritas sincerely congratulates the aged on the Day of the Elderly, expresses the words of gratitude and wishes them good health and God's blessing and it also calls on all the people to pay attention to the elderly people, to show their compassion and mercy to them, in order to deserve a decent old age.