Statistics
We have 5 guests online

Wednesday, 06 June 2018 13:28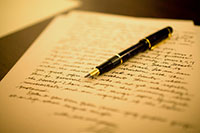 The purpose of the contest is to preserve the memory of the tragic past of the Ukrainian people, to establish links between generations, to destroy stereotypes about the elderly, to recognize the life experience of persons persecuted during the times of National Socialism and the Stalin totalitarian regime in order to establish historical truth and construct relationships on the basis of mutual assistance and mutual responsibility.
Representatives of pupils and students of the city and region, journalists, volunteers, and the close environment of the elderly, victims of totalitarian regimes can take part in the competition.
Participants prepare a documentary story-a memoir of persons who were persecuted during the times of National Socialism during the Second World War (memoirs of eyewitnesses who were taken to forced labor (ostarbayters), prisoners of concentration camps, young prisoners, children born in places of forced detention) and during the Stalin totalitarian regime (memories of eyewitnesses, repressed and expelled Stalin concentration camps, labor camps and special settlements).
Requirements to the text:
1. Text with a volume not exceeding 3000 characters with spaces
2. The form of the story is free: a monologue, an interview, a story from the first person, a third person, an essay, and so on.
3. Language: Ukrainian
4. Competitive works should be submitted for review not later than 18.00 June 29, 2018 by sending to the post This e-mail address is being protected from spambots. You need JavaScript enabled to view it with the mark "COMPETITION TRAINING"
or you can take personally to the Krykhivetska street,102, village of Krykhivtsi, Ivano-Frankivsk
5. The contestant's work must contain the following information:
- full name;
- date of birth;
- address of residence;
- contact phone.
Not mandatory, but an archive or a modern photo is welcome.
The jury will evaluate the text only.
The jury, which includes journalists, priests, as well as representatives of former prisoners of nazism and political prisoners, assesses the creative work and defines the winners.
Contact phone number 77-99-89.
Contact persons: Oleh Dmytruk, tel.: 050 2239000, f. Mykola Mazuryk, tel .: 067 34 41 012, Yulia Kovalets, tel .: 050 05 23559
The jury's decision is final and it can not be reviewed.
The evaluation will be based on the following criteria:
- content of the described memoirs;
- compliance with the procedure for describing autobiographical data, memoirs;
- depth and persuasiveness of the creative plan;
- the volume of the performed work is not more than 3000 characters of printed text with spaces.
All contest participants will be awarded with memorable diplomas and incentive prizes for participation in the competition, and 3 (three) winners will be awarded with valuable prizes.