Statistics
We have 36 guests online

Wednesday, 24 May 2017 18:36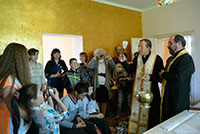 On the 22nd of May the center for work with disabled youth was opened and dedicated in the village. Rozhnyativ. The Center will work at the parish house of the Nativity church.
The Caritas vice-president Fr. Volodymyr Chornii and the diocese's representatives of Caritas Fulda (Germany) took part in the opening.
The repair in the premises was organized by the local priest, Father-Dean Vasyl Pastuh with financial support of the charitable foundation "Man in Need" (c. Trier, Germany). And while there was the repair, Fr. Vasyl took children in at home more than year.
Four - (children 13-14 years old), the other four (who have already reached adulthood) are visiting the center of Rozhniativ. The young people gather there four times a month, two group lessons, training on social adaptation are conducted for them.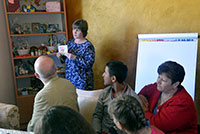 The Caritas vice-president Fr. Volodymyr Chornii said that the opening of that center is an excellent opportunity to administer charity. "This establishment and the care of disabled young people should become an example for other people who should understand that they have a time of their lives to do charity in order to deserve eternal life" - says Fr. Volodymyr Chornii.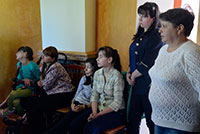 Since 2009, the beginning of cooperation of Ivano-Frankivsk Caritas with Caritas Fulda, there is a collaborative project "The center of leisure and social adaptation with disabled youth." During this period the seven centers of groups for self-help for disabled young people were originated - in Ivano-Frankivsk, Burshtyn, Bogorodchany, Otynia, Rozhniativ, Kalush and Tysmenytsia.
At present Caritas Ivano-Frankivsk takes care of about 300 children with physical and mental limitations.