Statistics
We have 37 guests online

Tuesday, 19 February 2019 11:30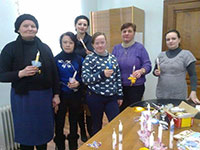 To integrate children and youth with disabilities into society and to give them the opportunity to self-fulfill, to support parents and relatives is the main reason for which Frankivsk Caritas creates self-help structures in the districts of Ivano-Frankivsk region. For this purpose, trainings on social adaptation, creative circles, leisure activities are delivered in the centers.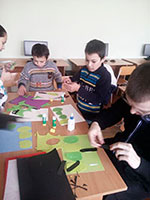 In 2018, Caritas initiated the creation of four new self-help centers. Two centers were established on the basis of territorial communities in Bilshivtsi and Vytvytsia and two other centers were established on the basis of parishes in the villages Lisets and Bohorodchany.
To Make the Children Feel Comfortable
Bilshivtsi and Vytvytsia TC responded with enthusiasm to the proposal to create centers for youth with disabilities.
In June 2018 the group began to work in Bilshivtsi. 11 people aged 7 to 37 years attend classes. They meet at school, in the office of a psychologist. When it gets warmer, they will go to the building of the village library. They are currently working to improve the conditions for learning.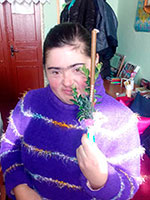 "We are currently writing a project. We plan to win a grant to equip the cabinet," says Maria Shchepanska. She is the chairman of Bilshivtsi TC, "there is a need to make repairs, to buy furniture so that children feel comfortable."
Local authorities are in contact with entrepreneurs who in turn help with transport for children.
Since autumn the psychologist started to work with children. It was effective.
"The psychologist helped children to feel more confident," says Father Jaroslav Klius, the head of the self-help group, "they are no longer afraid to speak about themselves and about their achievements. They freely express their opinion".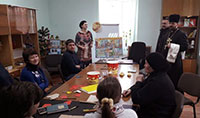 They Have Learned to be Friends
A month later, in July, the self-help structure started working in Vytvytsia TC. Seven people attend classes now. These are children and youth aged 5 to 35 years. They learn at the lyceum in the computer science class. Group leader Vira Kurudz thinks that it is very good because there is always access to the Internet. They watch films with children, cartoons and they find materials for holidays.
There are three children from one family in the self-help structure who are deprived of parental care. The children are under the care of their grandmother. A psychologist works with children and young people in the group as well.
"Children and young people have learned to be friends," says the leader of the group, "they know each other on the street, they talk in the group outside classes."
Residents of Vytvytsia are pleased that the charitable organization took care of children and young people with disabilities. They regret only that such measures are not taken at the state level.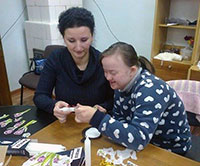 Unforgettable by Society
The self-help structure on the basis of the parish began to work since September in Bohorodchany. Nine people attend classes. Everyone is over 18 years old. They are engaged in a parish house. The team leader is Natalia Prysiazhniuk. The woman considers that it is her duty to be engaged in social initiatives.
"I am a very creative person and I want to teach young people with disabilities because I can do it myself," says Natalia, "I'm happy when they do this things and I'm glad to see their happy faces when they bring their jobbings home".
Children and young people with disabilities began to band together in December in the village of Lysets of Tysmenytsia district. The classes are currently attended by nine people. These are young people aged 8 to 30 years. They are engaged in the room of the village library.
Indifferent people join the group. A local businessman paid a pizza trip for children and young people recently.
"Now they feel that they are patronized but they were forgotten by society previously," says Father Vasyl Skurchanskyi, head of the group. "They are very waiting for these meetings and especially the older ones who have already finished school because they lack communication."
11 Centers
Work on the development of self-help structures lasts for four years. There are already 11 branches operating in Burshtyn, Kalush, Tysmenytsia, Otynia, Bohorodchany, Rozhniativ and Verkhnia TC. New centers in Bilshivtsi and Vytvytsia TCs, in Lysets and Bohorodchany operate within the framework of the project "Activation of Communities for the Provision of Services for Children and Young People with Disabilities" with the financial support of CNEWA CANADA.