Statistics
We have 18 guests online

Monday, 04 February 2019 20:53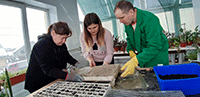 The greenhouse of Caritas Ivano-Frankivsk is buzzing with activity. Young people with disabilities sow seeds of petunia, so that the beauty of flowers is comfy. They also sow dill and parsley to have flavouring for culinary training.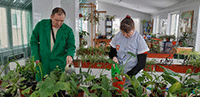 They water flower pots, clean and care for flowers with love and pleasure.
Work in the greenhouse brings girls and boys positive emotions and gives them strength.
Youth with disabilities attends the Center for Leisure and Social Adaptation for Disabled Children and Youth. The center operates on the basis of Ivano-Frankivsk Caritas.