Statistics
We have 11 guests online

Wednesday, 05 December 2018 22:19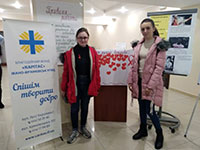 Every year on December 1, our planet celebrates the AIDS Day.On this day, statistics are available in all mass media on the prevalence of HIV infection, the rate of epidemic growth and mortality among HIV-infected people. But most people do not think that this problem can affect us, our children, our relatives and friends.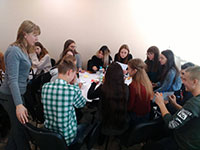 Today there are many favorable prerequisites and factors contributing to the spread of HIV infection. These are early sexual contacts among young people and their inadequate level of knowledge in HIV prevention issues, population migration, insufficient state provision of protection means of professional infection among physicians, the high cost of HIV prevention facilities and discrimination against HIV-infected people. As a result they do not want to open their status and so on.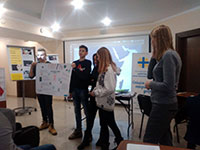 Before the World AIDS Day, Caritas Ivano-Frankivsk together with the Department of Education and Science of Ivano-Frankivsk organized an informational and preventive action "Awareness + Responsibility = My Choice". The campaign aims to raise awareness of the HIV / AIDS epidemic in Ukraine. The event was attended by about 60 students of the 10th grade of secondary schools in the city of Ivano-Frankivsk. They showed activity in information retrieval and creative work.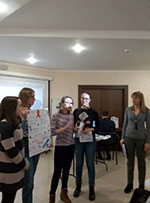 They created crossword puzzles, tests, informational booklets and social advertisements on HIV / AIDS in groups. The students also became members of the live library "Do not judge after the cover". A conversation with an HIV-infected person who revealed the problem based on his own experience did not leave anyone indifferent. "Once we made mistakes and started on the wrong path because we used drugs. But these people are the same as everyone. They need sympathy and understanding because in the society the stigma and discrimination of HIV-infected people leads to the fact that the patients are locked in themselves, conceal their problem and as a result many of our friends die every year "- shares Mr. Oleksandr, representative of charitable organization West-Chance".
The mini-photo exhibition entitled "Alien Problem does not Happen" was presented to the participants (photos and speeches of famous people who suffered from AIDS). One of the final results of the action is the elaboration by the participants of the algorithm of safe behavior of adolescents and youth in conditions of spread of HIV infection.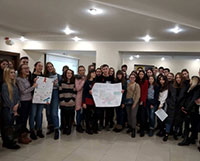 This event has proven that everyone should understand all the dangers of AIDS and make every effort to protect themselves and their closed ones from this terrible infection. Everyone should remember that a healthy lifestyle, cleanliness in relationships is the best method of AIDS prevention.Until we understand that this problem applies to each of us, the fight against AIDS will not produce essential results. This infectious disease is able to put human race under the real threat of extinction in 10-20 years. Every effort must be bent to protect themselves and their closed ones from this terrible infection because AIDS can enter practically every home, every family.
The event was held under the project "HIV Infected Children in Focus" with the financial support of the Vienna Mayor´s Office (Austria).