Statistics
We have 37 guests online

Friday, 23 November 2018 14:18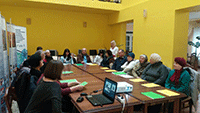 On November 22, 2018, employees of Ivano-Frankivsk Caritas shared their knowledge and experience with relatives of seriously ill people which are patronized by Caritas. The doctors of the palliative care project, Olia Nashchuk and Olia Troshchuk, trained the training participants on how to properly care for their relatives in order to prevent the formation of bedsores.
Indeed, most patients and their relatives, which carry out direct care for their relatives, have their own problem of the appearance of bedsores, so it is important to know the places where the bedsores are created and the ways of their formation preventing. Such wounds are very painful and they may eventually impair the ability of the person to move.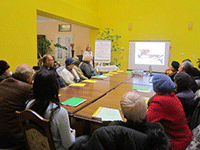 During the activity trainers taught how to treat bedsores depending on the stage of their development. Considerable attention was paid to ways of preventing the development of such a complication during the care of the lying.
Among the participants of the training were relatives of people which use ostomy bag. Therefore, doctors prepared useful information on the selection of ostomy bags depending on the nature of the stomach and features of the skin. They practically worked on the skill of this care product overlaying and removing.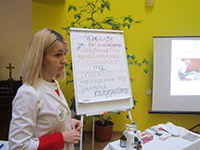 It should be noted that the participants of the class were active and happy to share their experiences with those present. Such a meeting had a positive result not only in acquiring new skills and knowledge, but also in the fact that people felt each other's support and were once grateful to Caritas employees for their help.
The event took place within the framework of the projects "Assistance in Access to Medical Equipment for the Socially Vulnerable Population" (financial support of the Knev Foundation) and the "Caritas Ukrainian Care Center Network (Palliative Care Centers) 2018" (financial support for the Caritas Archdiocese of Vienna, Austria).