Statistics
We have 16 guests online

Monday, 17 September 2018 17:16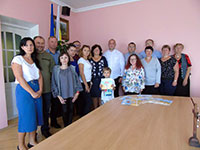 Caritas Ivano-Frankivsk has been taking care of children and youth with disabilities for over ten years.The charitable organization helps not only those who live in Ivano-Frankivsk but it also creates self-help groups in the districts. For four years in a row centers have been set up at Burshtyn, Tysmenytsia, Kalush, Bohorodchany, Rozhniativ, Otynia and Verkhnia.Newly established centers are already operating in Vytvytsia and Bilshivtsi.In the centers children and youth take part in trainings, master classes. They spend leisure time together.
Currently Ivano-Frankivsk Caritas aims to build similar centers in other regions of Western Ukraine. For this purpose a round table was organized where leaders of self-help groups operating in Ivano-Frankivsk region shared their experience with the leaders of Caritas Kolomyia and Caritas of Chernivtsi Diocese.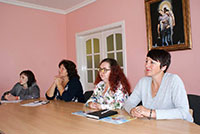 "Our experience shows that children and young people with disabilities become more open to people, develop their abilities and enjoy communication with their age peers through self-help groups," says project coordinator Maria Khalabarchuk, "after all families with children with disabilities lead an isolate way of life.They do not often go out into the street, do not participate in community life. Therefore we regard as our duty to join them to social life."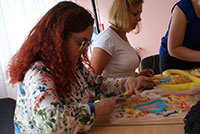 Representatives of Caritas are interested in working with children and young people with disabilities and emphasize that this is a necessity.
"In Chernivtsi Caritas is created recently and therefore there are still many unresolved issues, for example, with regard to the premises but we see a great need to create such centers," says VasylHasynets, director of Caritas Chernivtsi diocese, "we have already begun studying the situation in the parishes and we plan to meet with people ".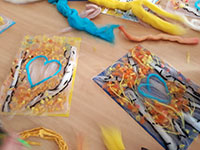 The center in Bilshivtsiis one of the newly created.The self-help group has been operating here since August this year. Classes are attended by 12 people at the ages from 7 to 32.
"Parents often have complexes about their children because they are not like other children. Parents begin to isolate these children from others while keeping them at home," says Father YaroslavKlius, head of the self-help group at Bilshivtsi, "we explain to parents that the more a child communicates with other children, the more it develops, becomes more decisive.And we saw the example of the children who visit our self-help group in Bilshivtsi."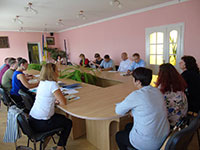 After discussion at a round table, a practical psychologist Lidia Anhlichuk held a master class on making wool paintings. Group leaders will be able to lead such master classes in their places in the newly created centers.
The round table was held within the framework of the project "The basic project of development of self-help for people with developmental disabilities and for consulting by the method "Disabled, as well as their parents consult the disabled"in the regions of Kolomyia and Chernivtsi in Western Ukraine.The project is funded by the Human Action and Caritas Fulda (Germany).