Statistics
We have 5 guests online

Wednesday, 13 June 2018 17:33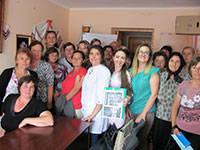 Thanks to well-coordinated cooperation with the Kalush Regional Center for Social Services the caretakers of the Ivano-Frankivsk Caritas Home-care Project have the opportunity to share their knowledge and skills with their colleagues – social workers who visit day-to-day sick and elderly single adults.
On June 13 the training on the care of seriously ill patients was held. It included two blocks. The first one was about prophylaxis and treatment of bedsores, wound dressing. And the second block was devoted to the prevention of professional burnout of social workers.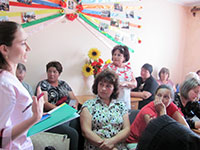 During the training coaches provided useful advices on patients care. They taught to turn over a sick person so as not to harm his health and to achieve maximum effect in the treatment of bedsores. Bedsores are the most common complications for a lying patient.
The daily work of a social worker depletes him both physically and emotionally, because old and single people need a lot of attention, communication and their problems and complaints contribute to a negative mood. That is why the caregiver is depleted.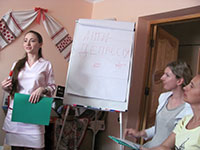 Sometimes due to the burnout of a social worker the quality of his services is reduced so it is very praiseworthy that the management of the center is not indifferent to this problem and cares about the favorable microclimate of the team.
Volunteer of Frankivsk Caritas Liudmyla Grytsyshyn joined the organization and the training. The girl is a student at the Ivano-Frankivsk medical university. The volunteer has prepared informational materials that will be useful to the participants of the meeting not only in work, but also in their personal life.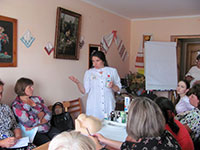 The event took place within the framework of the projects "Promoting Access to Medical Equipment for the Socially Vulnerable Sector" (financial support of Dr. Volodymyr Shkilnyk), "The Network of Caritas Guard Centers of Caritas Ukraine, 2017" (financial support of Caritas Vienna Archeparchy) and the project "Improving the Quality of Life of People which are Elderly Victims of Totalitarian Regimes by Creating Conditions for Their Involvement in Active Participation in Public Life and the Organization of Volunteer Support for Low-mobile and Non-mobile Representatives of Basically Target Group" (Financial support of the social association "Care of the Elderly in Ukraine ".