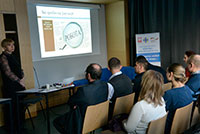 On Monday, March 26 at the Intellect Hub Caritas Ivano-Frankivsk organized a discussion club "Unemployment is [not] ". They talked about whether there is a biased attitude to ATO participants and internally displaced persons when they are employed. It was discussed the availability of grant programs for starting own affairs and employment subsidies for these categories of people.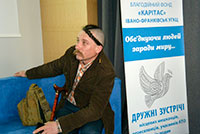 The discussion was attended by employers, representatives of the Ivano-Frankivsk City Employment Center, ATO participants and settlers. The moderator of the meeting was Iryna Marko, Personnel Manager of the Personnel Agency "Work for Everybody".
Larysa Panteliuk, the head of the All-Ukrainian Association "Ukrainians of Donbass and Crimea", says that there are no problems with the placement of immigrants. During four years those people who had a desire have already found a job. And for those persons who had difficulties with specialties, which are not in demand here, the employment center provided an opportunity for retraining.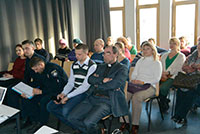 With regard to the biased attitude of employers to certain categories of people, the head of the Center for members of the ATO and their families "Banderivsky Shron" Ihor Chernetsky believes that this phenomenon exists with respect to ATO participants.
"They are afraid to hire ATO veterans, because in each issue of news they say that participants ATO abusive alcohol and have a shift in emotional state," explains Chernetsky, "We have experienced a heightened sense of justice after experiencing military events, and it is also difficult to be among the people. "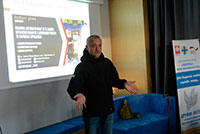 Serhii Liubyh is a member of ATO who found himself after a military event. A man opened the cafe of Georgian baking "DedasPuri" and he invited ATO members and their families to work. Currently there are vacant posts in the cafe. They need a baker and a bartender-seller. The owner made an announcement however no ATO participant addressed him.
Representatives of the patrol police were present at the meeting where the recruitment of personnel is now underway. There are currently 60 patrol police off in Ivano-Frankivsk.
In turn employees of Caritas told about the launch of a new project on self-employment and microenterprise development "Strengthening self-sufficiency of displaced persons and communities affected by the conflict in Ukraine" in Ivano-Frankivsk region. It is an opportunity to start your own business. Details are on the Caritas website: http://caritas.if.ua/uk/component/content/article/11-news/730-do-uvagy-predstavnykiv-pereselenskoji-gromady-ta-miscevyh-meshkanciv.html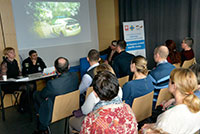 According to the information of representatives of the Ivano-Frankivsk City Employment Center there are currently about 70 participants of the ATO and 15 internally displaced persons here.
Frankivsk Caritas organizes a Discussion Club every month. The topics of the discussion are the urgent issues that are now emerging in society and concern people. The event took place within the framework of the project "Uniting People for Peace Building".