Statistics
We have 27 guests online

Caritas Church - Ivano-Frankivsk
| | |
| --- | --- |
| Caritas Ivano-Frankivsk Announces Contest for Documentary Story "Human Fate in Test Times" | |
Wednesday, 06 June 2018 13:28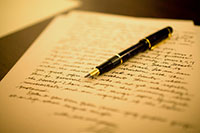 The purpose of the contest is to preserve the memory of the tragic past of the Ukrainian people, to establish links between generations, to destroy stereotypes about the elderly, to recognize the life experience of persons persecuted during the times of National Socialism and the Stalin totalitarian regime in order to establish historical truth and construct relationships on the basis of mutual assistance and mutual responsibility.
Representatives of pupils and students of the city and region, journalists, volunteers, and the close environment of the elderly, victims of totalitarian regimes can take part in the competition.
Read more...
| | |
| --- | --- |
| The Family Festival Unites Families in Ivano-Frankivsk | |
Tuesday, 29 May 2018 14:15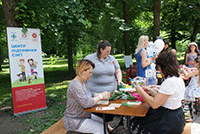 On May 27, Sunday, Ivano-Frankivsk hosted a family festival. The day off and the sunny weather helped to keep parents and children together. The family festival was held in the park of culture and rest named after Taras Shevchenko.
Caritas Ivano-Frankivsk joined the family holiday and prepared a variety of creative activities for families. Adults had the opportunity to learn the drawing of wool paintings, while in the meantime, the children had a choice of various master classes for every taste: drawing on pebbles, making paper flowers, postcards. Children also liked to make a family tree, recalling all of their relatives.
Read more...
| | |
| --- | --- |
| Frankivsk Caritas Prepares Trainers among Young People to Carry out Antitrafficking Measures | |
Tuesday, 22 May 2018 15:47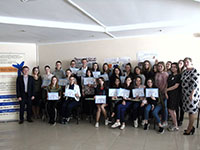 Modern slavery can affect everyone, regardless of social status, age, gender, education. Forms of exploitation of people are different: labor, sexual, forced begging. The victims live among us but sometimes they remain invisible. In order to protect oneself and relatives from unpleasant situations, it is necessary to "arm" with information.
Read more...
| | |
| --- | --- |
| Caritas Ivano-Frankivsk Conducts Trainings for Volunteers | |
Friday, 11 May 2018 11:24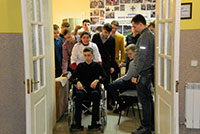 Anybody can be a volunteer. Only a desire is needed. However it only seems at first glance. In order to help people qualitatively they need some knowledge and skills. That is why trainings are held for volunteers in Caritas Ivano-Frankivsk.
Caritas Volunteers help employees to care for sick, lonely and elderly people. And the special training is required here. At the training boys and girls are taught how to provide first-aid care.
Read more...
| | |
| --- | --- |
| We Help, Work, Teach ... | |
Friday, 20 April 2018 16:56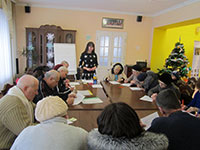 Every day patients or their relatives or friends address Caritas Ivano-Frankivsk and maybe even purely casual people who have seen the infirmity and suffering of a sick person and wish to help her. However we often encounter situations where the desire to help is not enough. On the contrary people want to do something useful but do not have the appropriate skills and experience. There are many options to get the information you need for yourself even on matters of care in the modern world. But that is not all.
Read more...
<< Start < Prev 1 2 3 4 5 6 7 8 9

10

Next > End >>


Page 10 of 126