Statistics
We have 26 guests online

Caritas Church - Ivano-Frankivsk
| | |
| --- | --- |
| До уваги представників переселенської громади та місцевих мешканців! | |
Wednesday, 21 March 2018 19:42
There are no translations available.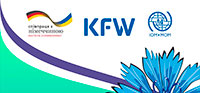 РОЗПОЧАЛАСЬ РЕЄСТРАЦІЯ для участі у новому проекті з розвитку самозайнятості та мікропідприємництва «Зміцнення самозабезпечення переміщених осіб та громад, що постраждали від конфлікту в Україні» в Івано-Франківській області. Реалізація проекту здійснюється Міжнародною організацією з міграції (IOM Ukraine) за фінансування Уряду Німеччини через німецький Банк Розвитку KfW.
Read more...
| | |
| --- | --- |
| Employees of Caritas Ivano-Frankivsk Performed With Their Wards the Way of the Cross | |
Sunday, 18 March 2018 22:43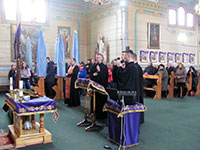 March 14 Caritas Ivano-Frankivsk together with seminars of Ivano-Frankivsk Seminary organized the Way of the Cross for their wards with their relatives.
The participants of the communal prayer were the members of the Old-Age Club "Nadvechir", the project "Network of Caritas Guard Centers of Ukraine (Palliative Care), 2018" and youth of the Center for Leisure and Social Adaptation for the Disabled.
Read more...
| | |
| --- | --- |
| Caritas Ivano-Frankivsk Organized a Talent Contest for Children | |
Saturday, 03 March 2018 16:10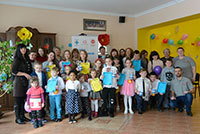 On Saturday, March 3 a talent contest "The Center for Family Support has Talents" took place in Caritas Ivano-Frankivsk. 13 children participated in the concert program. They attend the Family Support Center.
Children and their parents showed their talents. They sang, danced, played musical instruments, recited verses. The competition was attended by a jury that evaluated the skill of each performance. The first, second and the third places were distributed among the children in each nomination.
Read more...
| | |
| --- | --- |
| Caritas Ivano- Frankivsk Teaches Civil Servants the Features of Professional Communication With Settlers and ATO Participants | |
Tuesday, 27 February 2018 17:45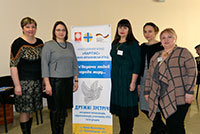 On Tuesday, February 27 CaritasIvano-Frankivsk organized training for employees of state institutions on the topic "Facilitating the Resolution of Social Conflicts by Raising the Level of Professional Communication Between Civil Servants and People of Different Social Groups." The event was organized with the Department of Social Policy of the RSA.
Read more...
| | |
| --- | --- |
| The Secrets of Forced Labor or the Story of one Ostarbeiter | |
Tuesday, 27 February 2018 16:34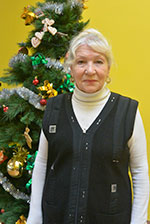 Liubov Klymenko was only three years old when German soldiers grabbed her with her sister and mother and took them to Germany for forced labor. Their father was in the war then. Although she was quite small, she remembers a lot. The woman is 77 now. She tells schoolchildren her story at the meetings "Dialogues of Generations" which is organized by Caritas Ivano-Frankivsk.
March 1944, the town of Dubrovno, Belarus. Another round of German soldiers. People fled to the forest. The mother of little Liuba did not manage to hide with two children. Therefore they were loaded together with the others into the train and carried. Everyone guessed where they were taken.
Read more...
<< Start < Prev 1 2 3 4 5 6 7 8 9

10

Next > End >>


Page 10 of 124