Statistics
We have 26 guests online

Caritas Church - Ivano-Frankivsk
| | |
| --- | --- |
| Caritas Ivano-Frankivsk Conducts Trainings for Volunteers | |
Friday, 11 May 2018 11:24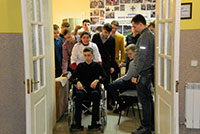 Anybody can be a volunteer. Only a desire is needed. However it only seems at first glance. In order to help people qualitatively they need some knowledge and skills. That is why trainings are held for volunteers in Caritas Ivano-Frankivsk.
Caritas Volunteers help employees to care for sick, lonely and elderly people. And the special training is required here. At the training boys and girls are taught how to provide first-aid care.
Read more...
| | |
| --- | --- |
| We Help, Work, Teach ... | |
Friday, 20 April 2018 16:56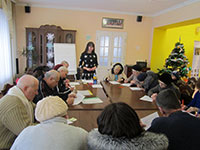 Every day patients or their relatives or friends address Caritas Ivano-Frankivsk and maybe even purely casual people who have seen the infirmity and suffering of a sick person and wish to help her. However we often encounter situations where the desire to help is not enough. On the contrary people want to do something useful but do not have the appropriate skills and experience. There are many options to get the information you need for yourself even on matters of care in the modern world. But that is not all.
Read more...
| | |
| --- | --- |
| Art treats. Caritas Ivano-Frankivsk Conducts Psychotherapy Classes for Their Wards | |
Wednesday, 18 April 2018 16:39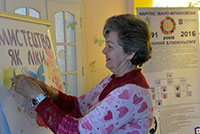 On Wednesday, May 18 a psychologist conducted psychotherapeutic training sessions on "Art as a medicine" in Caritas Ivano-Frankivsk.
The purpose of the training is to help participants understand and appreciate their feelings, memories, images of the future through artistic creativity, literature and music with the help of artistic creativity. The classes were held for internally displaced persons and local residents attending Caritas Ivano-Frankivsk Family Support Center and wards who need palliative care.
Read more...
| | |
| --- | --- |
| Accept and Find. When the Family is Escorted | |
Tuesday, 27 March 2018 18:44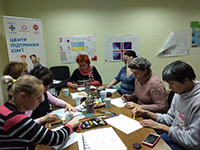 The Family Support Center started its work in May 2017. The main objective is the integration of internally displaced persons and the host community in Ivano-Frankivsk and in region. This is a kind of space for meeting, communication and joint leisure activities. Families of settlers, participants, dead ATO fighters and local inhabitants meet here. The project is implemented by Caritas Ivano-Frankivsk.
Read more...
| | |
| --- | --- |
| Myths about the Biased Attitude of Employers to Participants of the ATO and Settlers Were Dispelled in Frankivsk | |
Tuesday, 27 March 2018 16:05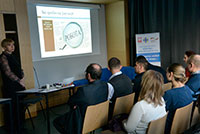 On Monday, March 26 at the Intellect Hub Caritas Ivano-Frankivsk organized a discussion club "Unemployment is [not] ". They talked about whether there is a biased attitude to ATO participants and internally displaced persons when they are employed. It was discussed the availability of grant programs for starting own affairs and employment subsidies for these categories of people.
Read more...
<< Start < Prev 1 2 3 4 5 6 7 8

9

10 Next > End >>


Page 9 of 124