Statistics
We have 7 guests online

Caritas Church - Ivano-Frankivsk
| | |
| --- | --- |
| How Important Is Spiritual and Psychological Support | |
Thursday, 27 December 2018 18:50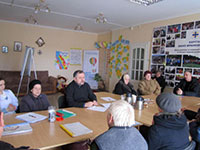 On December 26, 2018, employees of the Ivano-Frankivsk Caritas held a joint prayer on the bracelet for the seriously sick people acquiring the palliative care project and for their relatives. Afterwards Caritas volunteer Hrytsyshyn Liudmyla Myroslavivna, a student of the V course of the 10th group of the medical faculty of the Ivano-Frankivsk National Medical University, delivered a training course "Psychotherapeutic Rehabilitation of People with Serious Diseases".
Read more...
| | |
| --- | --- |
| St. Andrii's Evening Parties for the Young Souls | |
Monday, 24 December 2018 18:33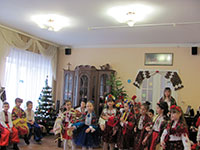 The Feast of St. Andrii is considered to be the greatest New Year's Eve celebration which has been celebrated on December 13. Andrii Pervozvannyi was one of the twelve apostles of Christ and according to the legend, he was the patron saint of Ukraine. On the eve, the youth traditionally gathered at the Andrii´s evening parties.
Our young in mind people were gathered into friendly parties in Caritas. In order to create a festive atmosphere, Kryhivetska school students together with their parents and teachers decorated the hall in advance and they prepared the event, as the preparation of the holiday inspires no less than the holiday itself.
Read more...
| | |
| --- | --- |
| The Life of the Disabled Persons in Society: To Feel Their Isolation it is Enough to Change Roles for a Moment | |
Monday, 17 December 2018 19:08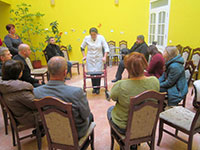 When you are young and healthy, full of optimism and hopes in the morning you rush your native street, then in most cases you do not even think about what great happiness the Lord gives you. You can wake up in the morning and leave bed without difficulty, get dressed and go home, go to study either to work and communicate with your friends. You live active the whole day ... And if you accidently see a person with disabilities you can think over that you are happy and you can say whispering, "God, forbid to be in such a situation ..."
Read more...
| | |
| --- | --- |
| Caritas Has Organized an Information Campaign Devoted to the AIDS Day | |
Wednesday, 05 December 2018 22:19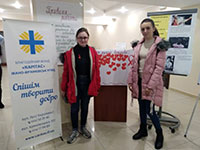 Every year on December 1, our planet celebrates the AIDS Day.On this day, statistics are available in all mass media on the prevalence of HIV infection, the rate of epidemic growth and mortality among HIV-infected people. But most people do not think that this problem can affect us, our children, our relatives and friends.
Read more...
| | |
| --- | --- |
| If your relatives suffer trouble, then all of you must be stocked with kindness, mercy, faith, patience, moral and physical strength and KNOWLEDGE | |
Friday, 23 November 2018 14:18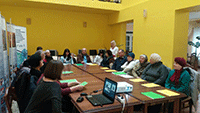 On November 22, 2018, employees of Ivano-Frankivsk Caritas shared their knowledge and experience with relatives of seriously ill people which are patronized by Caritas. The doctors of the palliative care project, Olia Nashchuk and Olia Troshchuk, trained the training participants on how to properly care for their relatives in order to prevent the formation of bedsores.
Read more...
<< Start < Prev 1 2 3 4 5 6 7

8

9 10 Next > End >>


Page 8 of 128