Statistics
We have 6 guests online

Caritas Church - Ivano-Frankivsk
| | |
| --- | --- |
| Common Prayer of the Procession in Caritas | |
Wednesday, 03 April 2019 20:19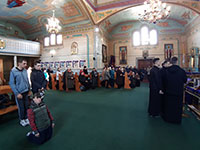 Today, the employees of Ivano-Frankivsk Caritas together with their brothers-seminarians of the Ivano-Frankivsk Seminary organized the Prayer of the Procession in the Church of the Assumption of the Blessed Virgin Mary of Krihivtsi. Among the participants of the event there were the wards of the Club for the elderly "Nadvechir", youth with disabilities, seriously ill people and their relatives, displaced persons - all who Caritas patronizes during the implementation of various programs and projects.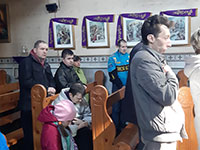 Every day people around us are endured, each one of us carries his cross: someone is seriously ill, someone has an incurable ill child, father or mother, husband or wife, brother or sister, someone left home, somebody's dearest person was killed in the war...
This pain united all the participants who found solace in a joint prayer to the Almighty. While pondering on the Passion of Christ, His patience and torment, they all followed Jesus, step by step up to the mountain of Calvary, sacrificing his pain and suffering for the anointing of the sins that were the cause of His crucifixion.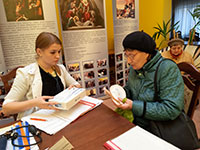 Before the beginning of the Procession, everyone made an intention - someone sacrificed for the patient's health, someone for the people, for peace and tranquility, someone for the church, someone for the soul in purgatory.
"This year I take part in such a visit of the Procession for the second time, in Caritas I am for the first time, but I am very grateful that I was invited to this prayer." I am an immigrant from Donetsk Oblast, with the beginning of the war I came to my homeland. Hoping for a short time, however, it was so that events in the East do not allow me to go back to my home, "says Ms. Lidia, with tears in her eyes," Thanks sincerely to Caritas, his staff who have been helping me survive for the second year. "Last year I was given a surgery on the tibia joint. The young people, the social workers of Caritas Svitlana and Ivan, helped me a lot: visited the hospital, bought everything I needed, provided me with walkers, helped me climb the bed and take the first steps after the operation, and later I got a joint lock in Caritas. The girls taught me to dress it up. All here are very good and positive: they will listen, advise, support and help. As an immigrant, I get Caritas medicines, detergents and hygiene products, and grocery kits. I am very - very grateful to Father Volodymyr, the Director of Caritas, that he has formed such a good team of workers who are ready to take everyone and help each other every day. "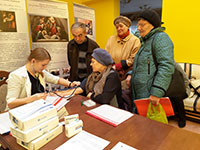 "My name is Liuba, I became ill with sarcoidosis of the intra-thoracic peripheral lymph nodes, and it was very difficult to accept the diagnosis, felt pain and frustration, because I do not have children, but doctors forbade me to even think about it." From friends I heard about help for cancer patients in Caritas. I applied and they took me to the palliative care program, where a group of incurably sick people, who meet in Caritas every month, receive advice from a doctor, nurse, material assistance - medicine or care products, - to whom it is necessary. And most importantly - all together we pray with Father Mykola or work with a psychologist, who arrange interesting lessons for us and conduct conversations with us. "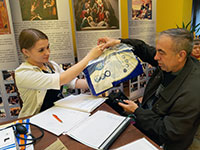 "And I do not remember how many years I have come to Caritas for such meetings," says Ms. Olia, the purchaser of the Club for the elderly "Nadvechir". - Very good work is done by the workers here: first of all, we respect the older generation, and secondly, they care about our leisure: we come to the circle of making greeting cards, where we have already made different cards - both to the Independence Day and Easter, and before Christmas ... every month we meet here, celebrate both state and religious holidays, we go to Pilgrimage, even on picnics. It is very interesting for us here, and we all sincerely thank Caritas for taking such care of us, for their support and comfort. "
The event took place within the framework of the projects "Improving the quality of life of elderly people-victims of totalitarian regimes by creating conditions for their involvement in active participation in public life, and organizing volunteer support for the small and mobile representatives of the main target group", "Network of Home Care Centers of Caritas" (Palliative Care), 2019 "and" Home Care for HIP in Western Ukraine ".
Read more...
| | |
| --- | --- |
| Сім`ї учасників АТО з Одеси та Івано-Франківська розписували писанки | |
Wednesday, 27 March 2019 18:13
There are no translations available.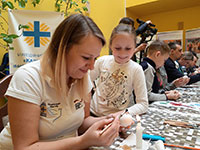 Сьогодні у Карітасі Івано-Фраківська сім'ї учасників АТО з Одеси та Івано-Франківська розписували писанки. Майстер-клас з писанкарства провела майстриня Іванна Равлюк.
Дорослі та діти створювали власними руками писанки відповідно до давніх технік на «живому яйці» та ознайомилися з символами, що зображували на писанках ще наші предки.
Read more...
| | |
| --- | --- |
| Франківський Карітас організував арт-терапію для практичних психологів та соціальних педагогів шкіл міста | |
Wednesday, 27 March 2019 17:07
There are no translations available.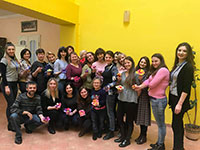 Як знайти душевну рівновагу та гармонію після напруженої роботи? Один з дієвих способів – валяння шерстю. Це арт-терапевтична техніка, яка допомагає зняти напруження, тривожність, розвиває образне мислення та додає впевненості у своїх силах.
Таку арт-терапію працівники Центр підтримки сім'ї Карітас - Івано-Франківськ організували для практичних психологів та соціальних педагогів шкіл Івано-Франківська.
Read more...
| | |
| --- | --- |
| Under Custody or Frankivsk Caritas Creates Self-Help Groups for Youth with Disabilities | |
Tuesday, 19 February 2019 11:30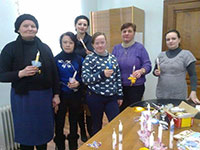 To integrate children and youth with disabilities into society and to give them the opportunity to self-fulfill, to support parents and relatives is the main reason for which Frankivsk Caritas creates self-help structures in the districts of Ivano-Frankivsk region. For this purpose, trainings on social adaptation, creative circles, leisure activities are delivered in the centers.
Read more...
| | |
| --- | --- |
| Франківський Карітас організував для молоді з інвалідністю свято музики | |
Wednesday, 13 February 2019 13:14
There are no translations available.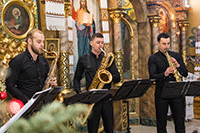 Духовна музика зачіпає найпотаємніші струни людської душі. Зцілює, заспокоює та надихає.
Для дітей та молоді з інвалідністю Карітас Івано-Франківськ спільно з Івано-Франківською обласною філармонією організували свято музики. Концертна програма Soli Deo в Калуші зібрала дітей та молодь, що відвідують структури самодопомоги у районах. Були діти та молодь з Верхнянської та Більшівцівської ОТГ, смт. Рожнятів, м. Тисмениця та м. Калуш
Read more...
<< Start < Prev 1 2 3 4

5

6 7 8 9 10 Next > End >>


Page 5 of 128