Statistics
We have 6 guests online

Caritas Church - Ivano-Frankivsk
| | |
| --- | --- |
| Здоров'я не повернеш. Спогади ліквідатора аварії на Чорнобильській АЕС | |
Friday, 07 June 2019 09:55
There are no translations available.
Село Побережжя Тисменицький район Івано-Франківська область
Василю Ходаку було 27 років, коли сталася аварія на Чорнобильській атомній електростанції. З тих пір минуло 33 роки. Чоловік вже все добре не пам'ятає, у нього розсіяний склероз та I група інвалідності. Згадувати все допомагає дружина. І це єдине, що весь цей час рятувало чоловіка – любов та турбота його Марії.
Read more...
| | |
| --- | --- |
| All the blame for drafts. History of loneliness of one ostarbetterka | |
Monday, 03 June 2019 12:11
Little Kateryna was five years old when she was taken to forced labor with her mother to Germany. That was 1942. She remembers a little, even does not recall the name of the city, but something nevertheless was embedded in the memory of a woman. About the German candy, the work that destroyed the person and the rumors that prevented the creation of a family - the life story of Ostarbeiterke Kateryna Korfil.
Read more...
| | |
| --- | --- |
| Ivano-Frankivsk Caritas invites to the Holiday in a children's town "I have a right!" | |
Wednesday, 29 May 2019 15:07
On Friday, May 31, at 14:00 at the address of Lesia Ukrainka St.,1, Ivano-Frankivsk Caritas, together with the children's service of the Executive Committee of the Ivano-Frankivsk City Council, arranges the Holiday in the children's town "I have a right!" to the International Children's Day.
Read more...
| | |
| --- | --- |
| Andrii Farmuha urges Ivano-Frankivsk citizens to support Caritas's project "Peace and Security Begins with the Family" | |
Wednesday, 08 May 2019 17:27
The "Participation Budget" project, submitted by the Ivano-Frankivsk Caritas, designed for ATO veterans and their families, as well as internally displaced persons and locals who have been in difficult living conditions.
For families, the project will create a unique space for dating, communication, training and psychological assistance. Caritas psychologists and families' caretakers will hold trainings for ATO's wives, psychological support groups for men and women from ATO families and HOP, outreach integration family meetings "School of Understanding and Dialogue", cinema clubs, discussion clubs and photo exhibitions.
Andrii Farmuha, an ATO participant, has repeatedly joined the events of Caritas. In his opinion, such support is extremely important for people, and therefore urges Ivano-Frankivsk citizens to support the project.
"The greatest benefit of the project" Peace and security begins with the family "is that it works with the ATO veterans' wives and with members of the families of those who were killed, in fact, do not receive the necessary services from the state or from the local self-government," says Farmuha, - Secondly, the project brings together different social groups, for example ATO veterans and settlers and coordinates them for joint activities, because when there is no moderator, it's sometimes difficult for people to communicate, so Caritas here serves as a moderator for people. "
The project "Peace and security begins with the family" brings people around the greatest values ​​- the family, parents and children. Through the Caritas activities, it will help everyone recover their vital resources, establish and strengthen family relationships, adapt to a peaceful life, overcome the "gaps in the war", become more tolerant of each other in the family and community.
"For many Carpathian families, the war is not something far, it's their trauma and pain, which they cannot always share with anyone," says Ivano-Frankivsk Caritas Director Father Volodymyr Chorny, among them ATO participants' families, as well as the HPA families, who escaped from the war in 2014, found refuge in Ivano-Frankivsk, and we see our mission to support and help people with counseling and expert advice in order to be able to cope with life's difficulties in the future. "
You can vote for the project by following: http://bu.mvk.if.ua/projects2019/36993?fbclid=IwAR0-r5m-aF6k2WhU6j9s2vzrtGI0kFIKsYt70KSz769vOLJzgXmpaXNVtc4
You can also support the project at the Centers for administrative services: Central Centre for administrative services (Nezalezhnosti St., 9), territorial units - John Paul II St., 4, Mazepa St., 185, Halytska St., 124 A.
Voting lasts until May 20, 2019.
Read more...
| | |
| --- | --- |
| Ivano-Frankivsk Caritas presents a training manual "Peace begins in the heart of each of us" | |
Thursday, 11 April 2019 16:07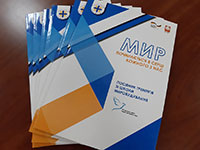 On Wednesday, April 10, Ivano-Frankivsk Caritas organized a round table to summarize two years of peace building work. As part of the event, a training manual "Peace begins in the heart of each of us" was presented.
For two years, the charity organization has united people, bringing together internally displaced persons, ATO participants and their families and local residents.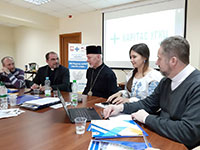 Social workers and psychologists helped people understand themselves, their emotions and those of others. And together people attended the events organized by Caritas - trainings, workshops, live libraries, film screenings, and open events.
In August 2018, Caritas organized a Peace building School for NGO leaders. In the village of Vyshkiv, Dolyna district, twenty active public figures from all over Ukraine have been participating in training trainings for four days.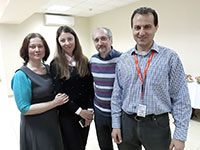 NGO leaders were introduced to the world of building ideas, ways, and tools for overcoming conflict and community tensions.
The training material is compiled in the manual "Peace begins in the heart of each of us". The guide provides training on stereotypes, discrimination, conflicts and ways to resolve them, the values ​​of peaceful coexistence and emotional intelligence.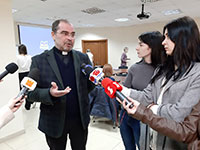 Ivano-Frankivsk Caritas encourages all the active citizens to unite for the common purpose - peace in Ukraine. Together we overcome stereotypes and unite the community. But we must start with ourselves. After all, before building peace in society, one must find peace in one's heart.
The Archbishop and Metropolitan of Ivano-Frankivsk Cyrus Volodymyr Viityshyn, Vice-President of Caritas of Ukraine Andrii Nagirniak, representatives of the anti-terrorist organizations, the victims and missing persons of anti-terrorist operation, representatives of internally displaced persons, psychologists and scientists attended the event.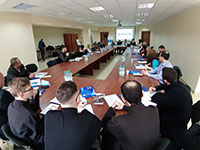 Ivano-Frankivsk Caritas conducts peacekeeping activities as part of the project "Uniting People for Peace".
The "Peace begins in the heart of each of us" training manuals at:
https://drive.google.com/file/d/13dAb_RFDpVmsahsnS44bu3qEK7oyJ7Mi/view?usp=sharing
Read more...
<< Start < Prev 1 2 3

4

5 6 7 8 9 10 Next > End >>


Page 4 of 128